Design Slices
2020
"A disruptive journey through European design."

Design Slices is a concept for a single-player, mobile creative toy that combines the pleasure of slicing things with tinkering mechanics, taking you on a journey through the history of European Design.
Use intuitive touch controls to slice, combine and manipulate a multitude of objects to create new and original outcomes.
Learn about the artists and designers that produced them, their creative processes, their thoughts and beliefs in 24 unique chapters.

This project has been funded by the "Film und Medienstiftung NRW".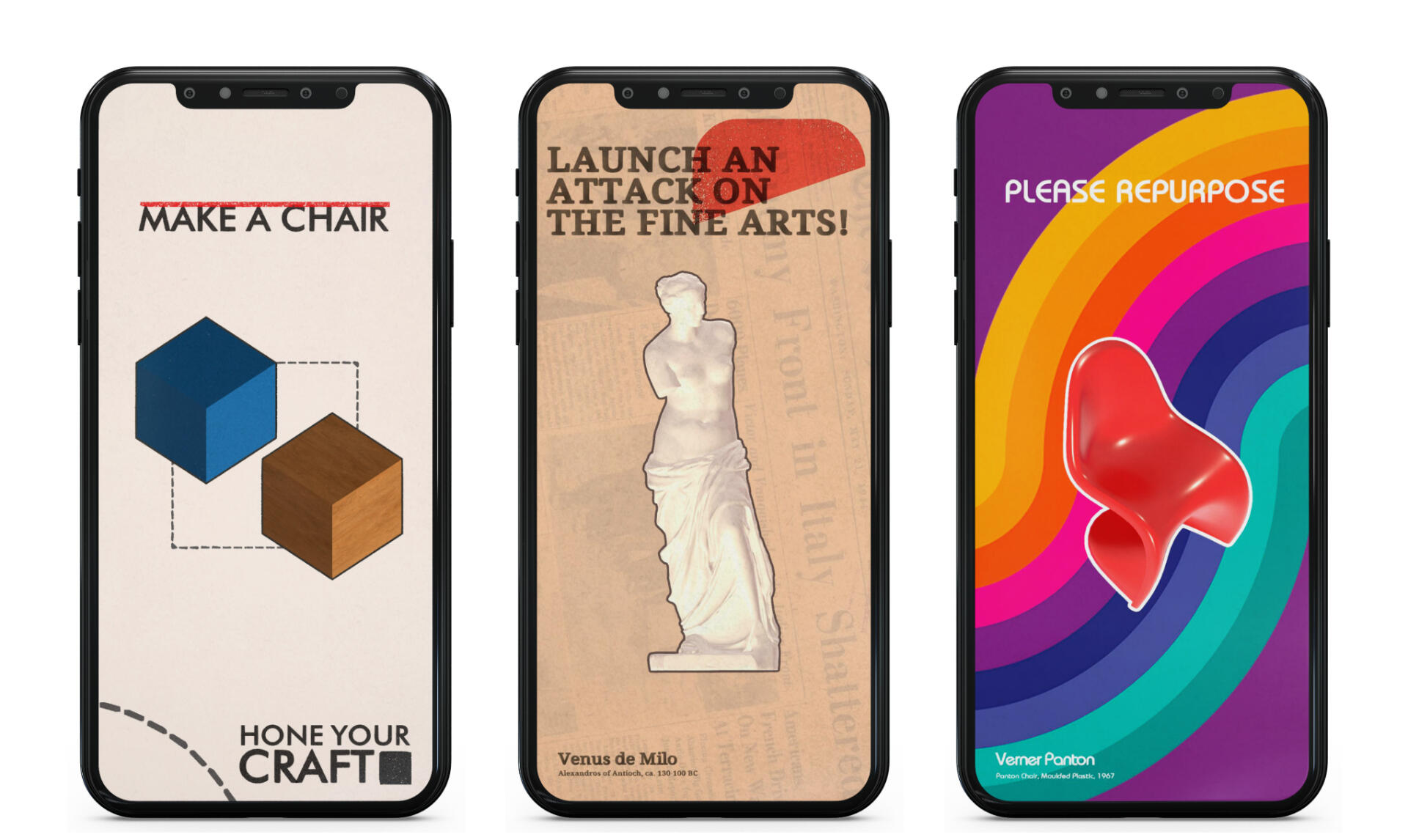 Developed in collaboration with Giantdoor UG.
Team:
Raven Rusch
Corrado Mariani
David Wildemann
Quarantine Companion
2020
"Complete the tasks, rebuild routines, and make it through these tough times."
The measures to slow the spread of the Coronavirus, while saving lives, have a significant negative impact on our daily and social life.
Quarantine Companion seeks to reduce the stress induced by these measures, and provide playful activities and new routines to do while distancing.
Three tasks based on expert recommendations for coping with the COVID-19 pandemic are sent out over the day. Completing the tasks will allow the players to customize the game to their interests.

The project has been awarded by the initiative "Land der Ideen" as an innovative project for positive change in response to the pandemic.
Team:
Caro Dick - 2D Art and Project Lead
Charlotte Zapfe - Localization
Daniel Turner - Programming
David Wildemann - Game Design
TH Cologne Serious Game Project
2020
"Teaching the fundamentals of team-work, project solving, and industry 4.0 to first semester engineering students."

As the team's Game Designer, I designed and advised on the development of a multiplayer AR game, and a multiplayer VR game, training team-work, problem-solving in applied engineering.
Team:
Prof. Dr. Anja Richert - Michael Schiffmann
Caroline Dick - Moritz Pauli
Mitesh Amin - Jan Wichmann
David Wildemann - Melissa Perl
Van Designer
2019
"An aesthetic exploration of early modern art and design movements."
Players decorate spaces of the German rich and royal at the turn of the 20th century. They balance emerging progressive and classic styles in response to their customers needs and their own creative vision.
Inspired by the life and work of architect and designer Henry van de Velde, this game seeks to educate players about relevant art movements at the turn of the century.
Team:
Caro Dick - 2D and 3D Art
Raven Rusch - 3D Art
Daniel Turner - Programming
David Wildemann - Game Design and Project Lead
Dreamcatcher
2019
"Relive the childish joy of staying up past bedtime, playing your favorite game"
Dreamcatcher is a small personal vignette game, developed within a week in June 2019. Seeking to invoke the abovementioned childhood memory, this game tries to use as little and as natural inputs as possible. Players can swipe to pick up or tuck away their "Gameboy" and need to press the button quickly in order to catch appearing "Pocket Monsters". From time to time, a cautious parent will enter the room, checking if the child is savely asleep.
Team:
Caro Dick - 2D and 3D Art
Raven Rusch - 3D Art
Daniel Turner - Programming
David Wildemann - Game Design and Project Lead
Lab Rats!
2018
In the Cologne Game Lab's collaboration with the Rheinische Akademie Köln on the GLARS project, it was our task to design and create a game, teaching chemistry students the basics of staying safe in the lab.
Lab Rats is a series of minigames featuring a stylised vector-like 3D art, played on android tablets.
The game features performant custom shaders for glass, fluids and lit objects.
Team:
Rebecca Nöll - Game and UI Design
Ozan Oztürk - Game and UI Design
Manuel Ott - Programming
David Wildemann - 3D Art, Animation, Tech Art, UI Design
Contact
Feel free to reach out to me via the email address below.
© David Wildemann. All rights reserved.